4th Degree Black Belt
Student at Choi's Martial Arts USA since May 2006
My martial arts journey began in 2005, when I was searching for a tae kwon do program for my son, Alex. My requirements were fairly basic. I needed a school that would accept students his age (4 ½ at the time) as well as one with a schedule I could manage around work. Alex was a pretty typical boy; lots of energy and little focus. I hoped TKD would provide an outlet for his energy and train him to be more attentive. I was very fortunate to discover Choi's Martial Arts USA, which not only carries the credentials of the World Tae Kwon Do Federation and the International Hapkido Federation, but which is owned by one of the most highly ranked and respected Grand Masters in the US.
Young children do take longer to master the material than the older ones do. MAUSA had a "tiny tigers" program especially for these 4 to 5 year old children, which proceeded at a slower pace than the usual white belt classes. I watched the classes and took notes on the stick figure illustrations of basic form, helping Alex to practice at home, essentially learning the forms myself. By the end of his first year, I realized that all the extra study was unnecessary, that Alex was learning the forms easily through regular class attendance. About the same time, the manager Lisa was offering a "Mothers Free in May" special. I started to come to my own classes to try it out. Then I was hooked! I signed a 3 year contract for Alex and myself the next
month.
Alex attained his 2nd Degree Black Belt before deciding he was ready to try new activities. I have continued on without him, although I would never say no if he wanted to pick up where he left off! Tae Kwon Do and Hapkido provide a physical and a mental workout, regardless of your age. You never really stop learning and perfecting all that you learned before.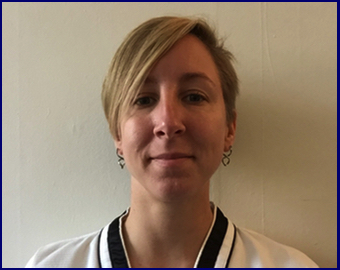 About Julie Zamostny
Instructor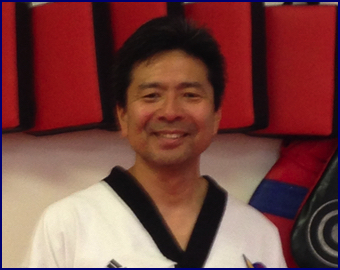 About John Nishimoto
Instructor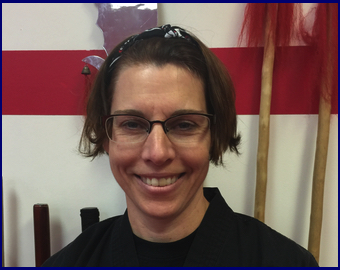 About Patty Ainsworth
Instructor